With St. Paddy's Day coming up, check out a tasty recipe perfect for a party. It would also make a great appetizer or side dish any day of the year!

Guest Post by Coupons.com
"When I was a child, potatoes were my favorite thing to harvest from our large garden. I loved digging my hands into the dusty, dry earth and popping out giant russet and red-skinned potatoes one at a time. Later my mom would bake them so the skins were deliciously crispy but the insides were fluffy and soft. But the best was when she made loaded baked potatoes topped with a yummy concoction of sour cream, cheddar cheese, chives, and bacon. Mmm! Now that was a way to get a small child to eat her "veggies."
This Irish Potato Bites Recipe takes those classic baked potato toppings and adds a bit of an Irish flair by swapping out the bacon for corned beef — and just in time for St. Patrick's Day, too! Plus, they're the perfect size for snacking, so feel free to pop one in your mouth and relish all those savory flavors melting together.
Add a dollop of sour cream on top and sprinkle them with chives to max out all the flavors. I guarantee you won't be able to have just one!
Serve them up at your St. Pattie's Day get-together or as an afternoon snack. But don't be surprised when you get asked to make more — these are sure to become a family favorite!"
Find more budget-friendly recipes on Instagram!
Irish Potato Bites Recipe
Ingredients
• 8-9 small red potatoes
• 1/2 cup shredded cheddar cheese
• 1 Tablespoon corned beef, diced
• Optional: Sour cream
• Optional: Chives
Load up on savings: Daisy sour cream coupons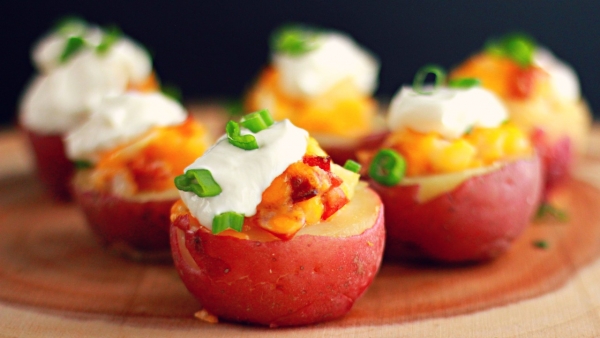 Enjoy!