The social media and blogging gal over at
Diet-to-Go
came across my review of what I ate during one week on The Fresh Diet (
here
), and reached out letting me know that they have gone out of business (article about it 
here)
 and left a lot of their customers angry and feeling ripped off! I am so sorry to hear that and hope I did not steer anyone in the wrong direction recently – must have been a new management issue or something?!
Anyways, she let me know about a much tastier and more trustworthy company with similar offerings – Diet-to-go – "a meal delivery service that delivers meals to people's doorsteps anywhere in the country, or allows them to pick them up fresh from fitness club partners all around the country."
I got to experience a peek at what the menu would look like and was sent 2 days worth of food to review! You have the choice usually of receiving either 5 days or 7 days worth of food at a time, for either 2 meals a day or 3! I received 3 meals, for the 2 days, and here is a look at what I received. First off it was pretty amazing to have all the food ready to go, stacked up in the refrigerator, and each meal ready in just MINUTES in the microwave or toaster oven.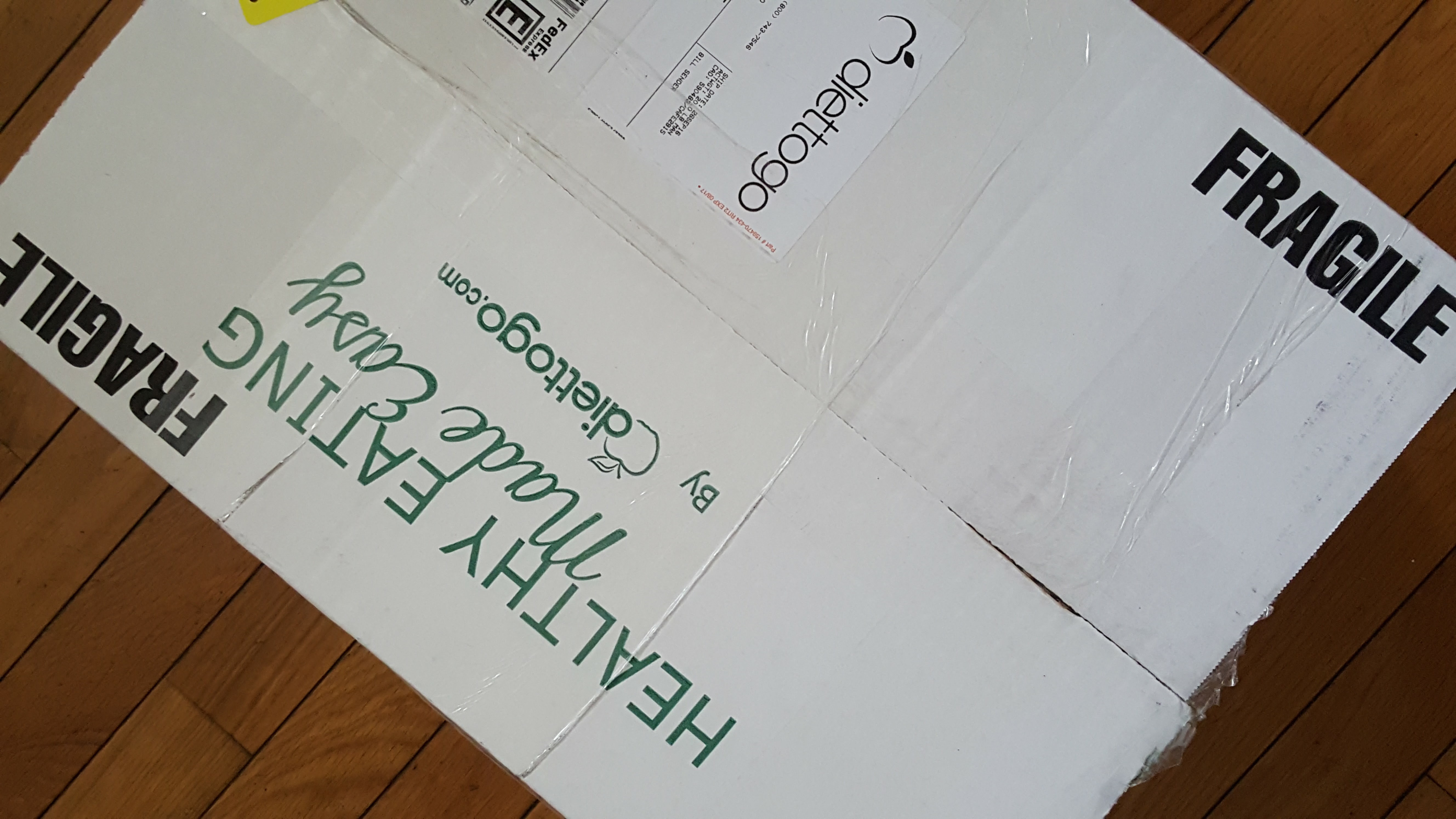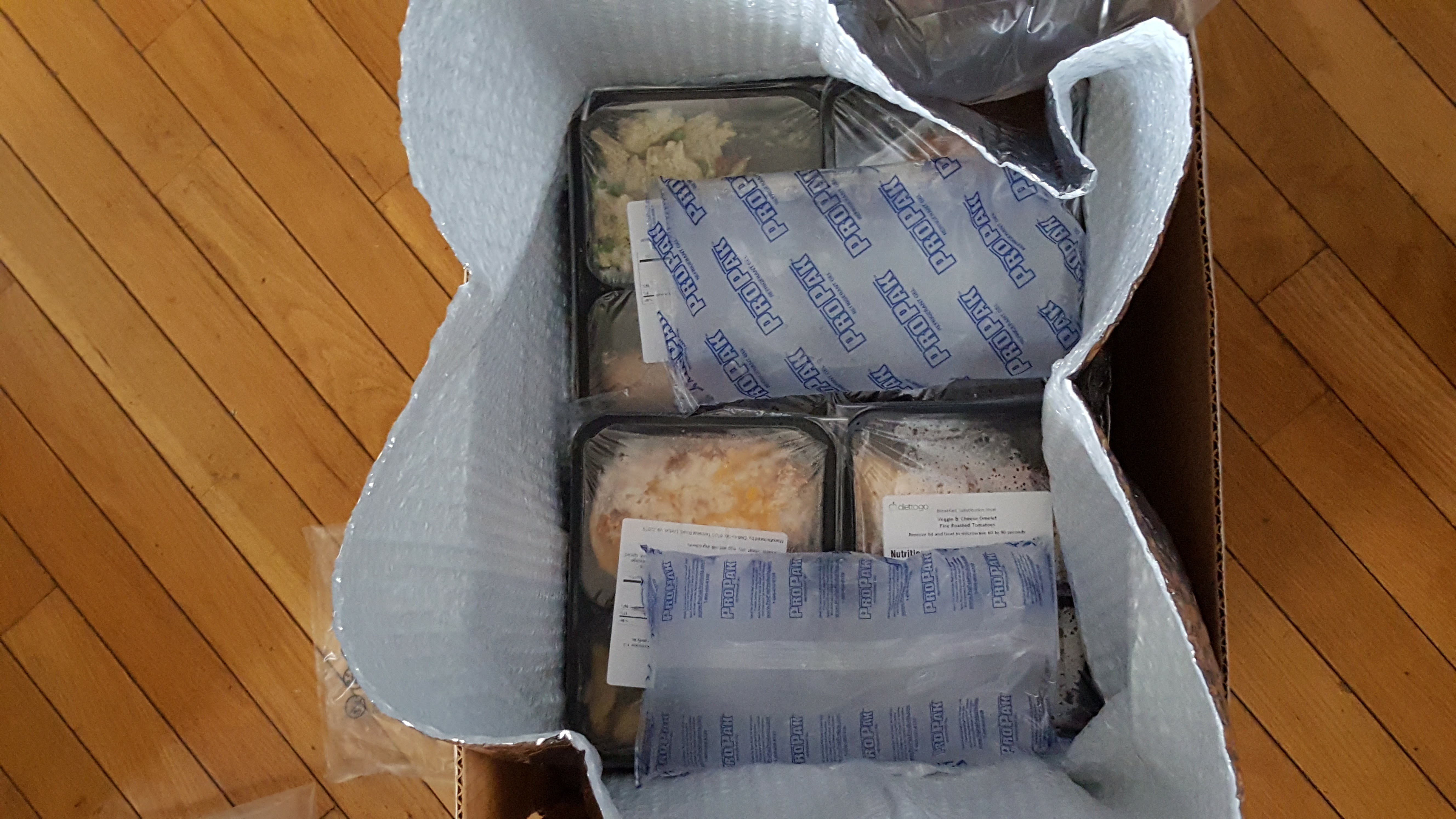 Every meal has the ingredients, cooking instructions, and nutritional information front and center.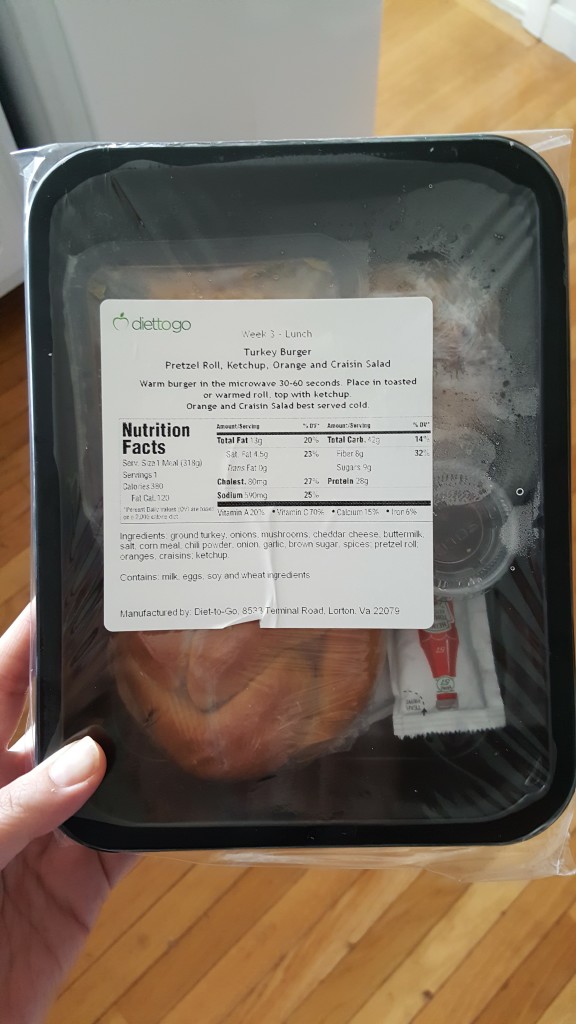 These are perfect for dieters who don't have time or energy to count points or calories…you don't even need to track anything, since they have figured out 1200 to 1500 calorie days for you!
One of my favorites was the breakfast pizza – so filling and piled with eggs, cheese, sausage, and veggies, on a hearty crust. You also get a nice side of cinnamon apples to go with it!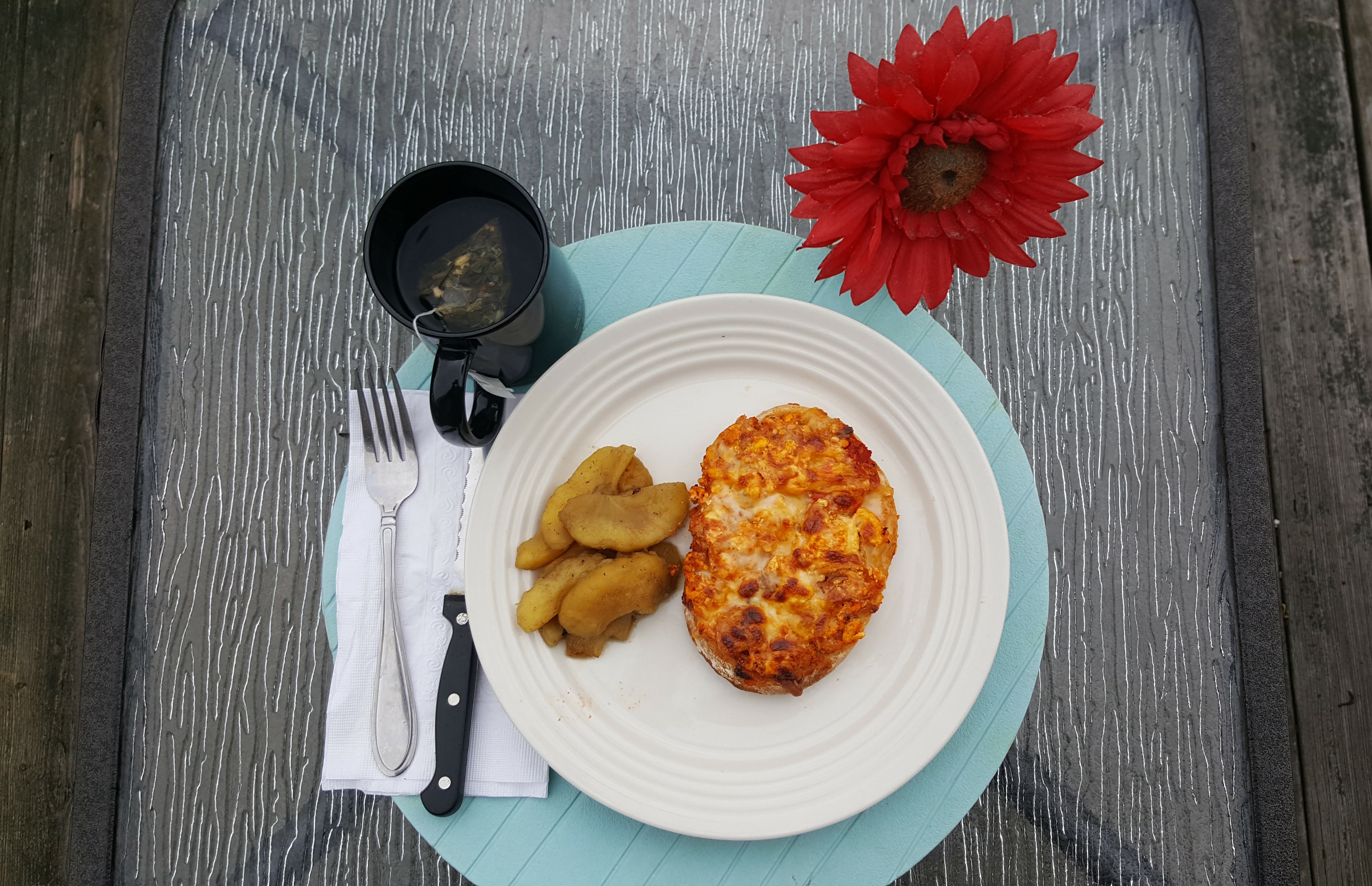 Then the other breakfast I was provided with, was a cheesy omelet with tomatoes, along with veggies on the side. I had it quickly at work and it too is filling and nice to have a heartier breakfast then my usual cottage cheese or yogurt. Easy to heat, eat and continue to work!
The lunches included a turkey burger on a pretzel bun with orange slices and dried cranberries (can we talk about how HUGE the burger is!?)…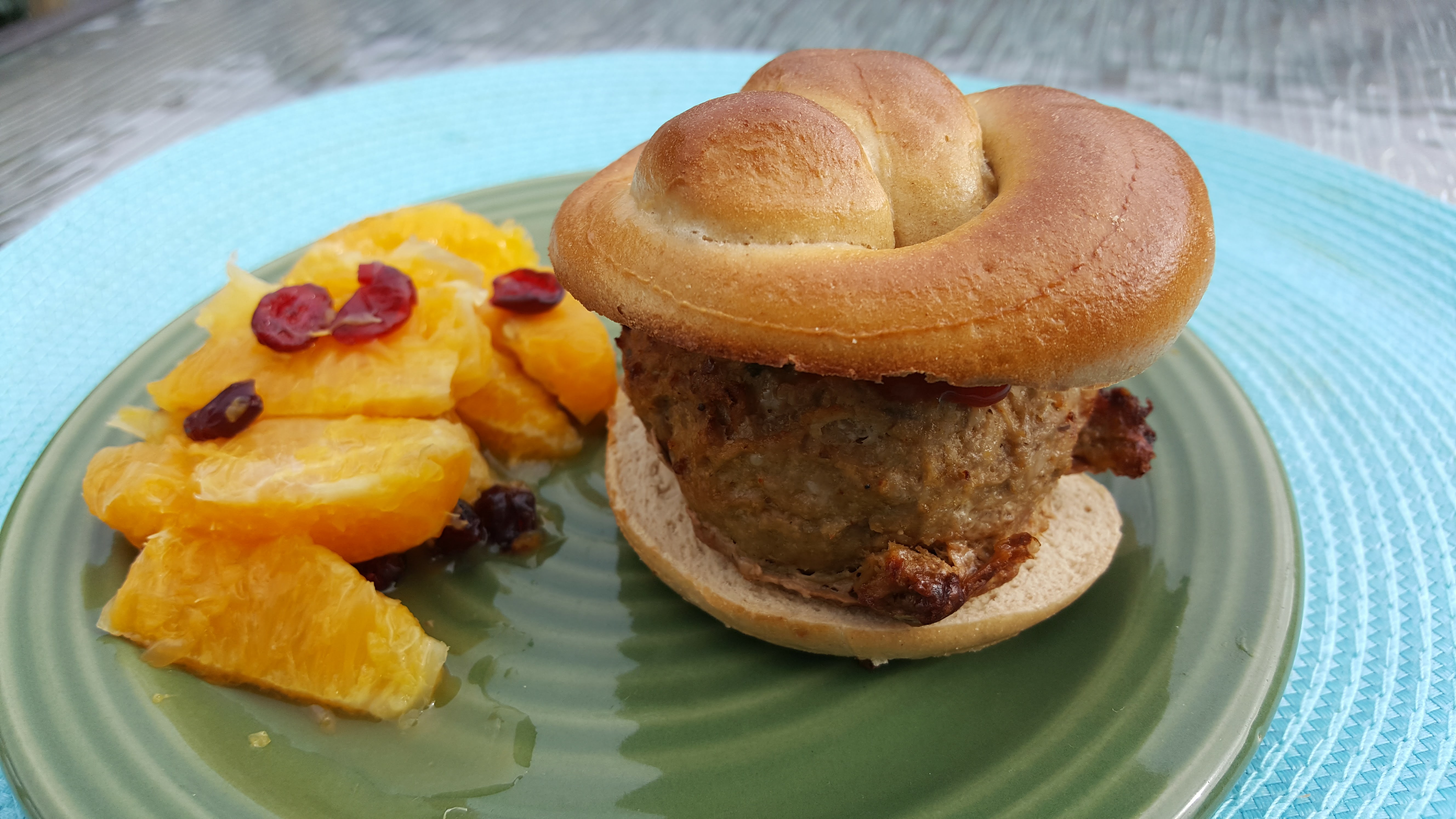 And I LOVED the other lunch – a small wheat roll and a chicken salad packed with peas, roasted peppers, and olives.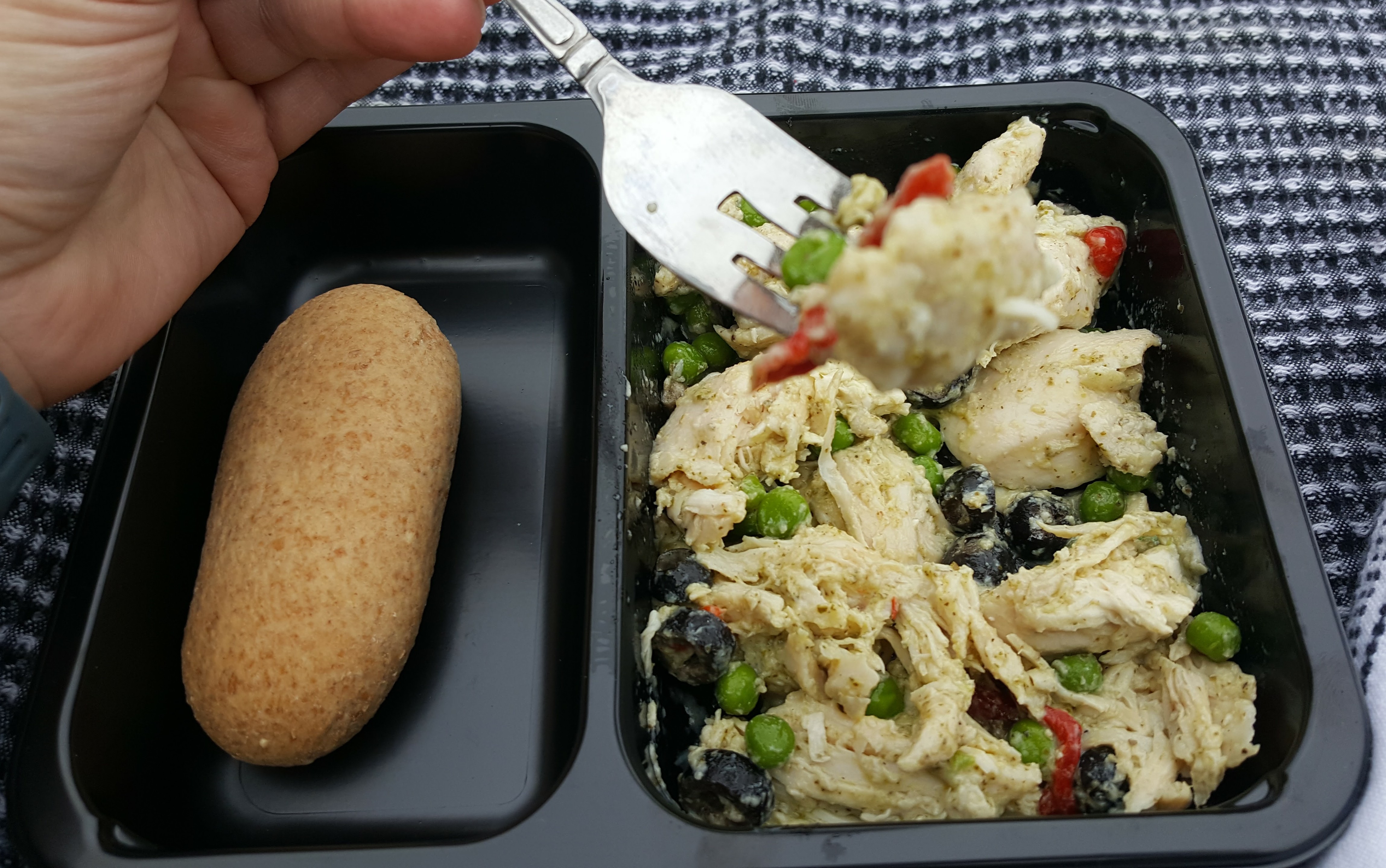 On to the dinners! Blackened salmon, spinach cauliflower puree, brussels sprouts, and a lemon wedge garnish. Who knew salmon could be so good heated up in the microwave! It was moist and flavorful. The puree maybe needed a pinch of salt to amp it up and I am not big on plain boiled brussels sprouts, so the sides weren't that exciting but the salmon was a great portion size and filling.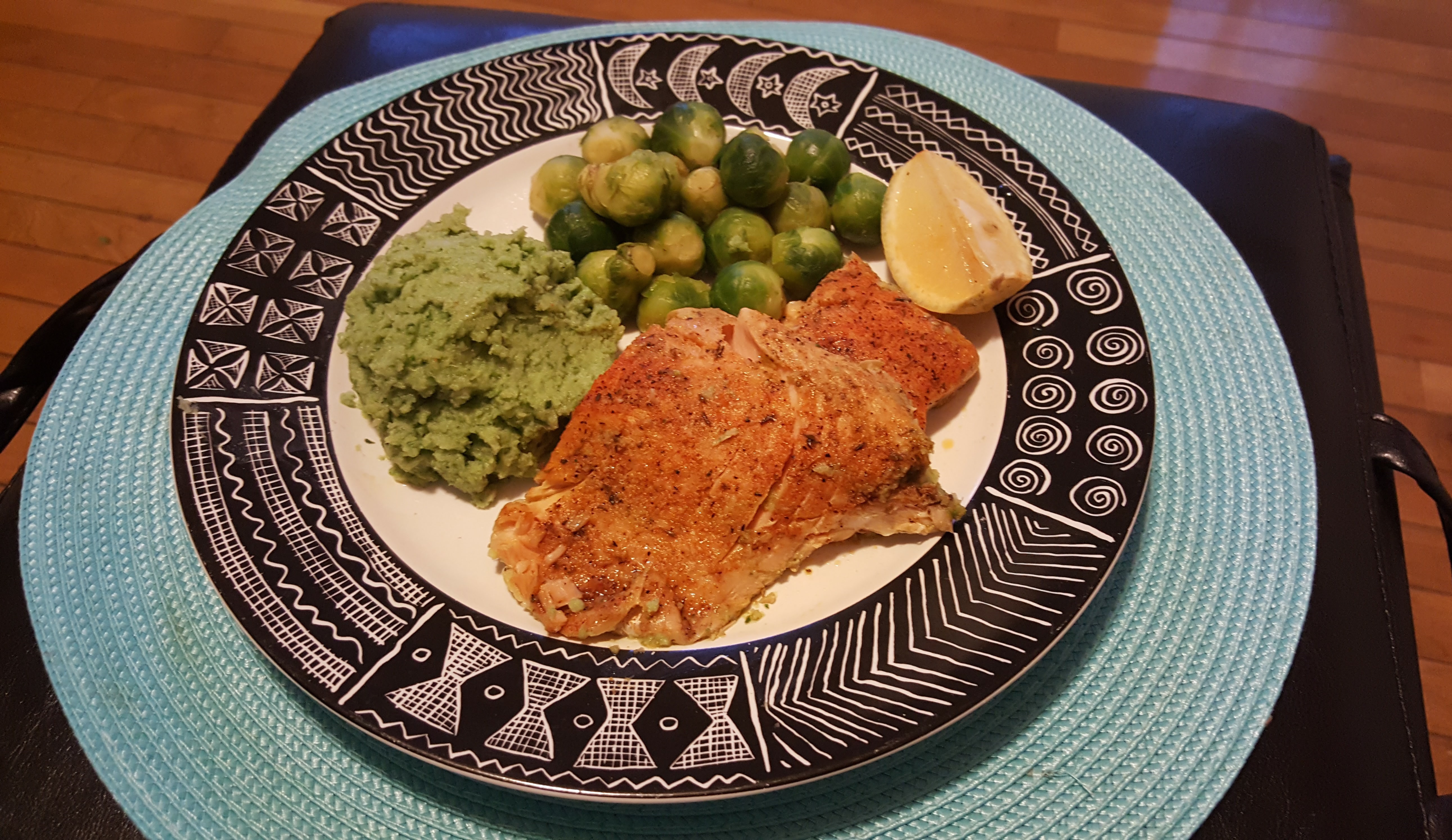 And last but not least, the dinner I liked a bit better than this one, grilled chicken parm with veggies on the side. Don't mind the picture – I ate it right out of the package instead of plating it like some of the other meals above 😉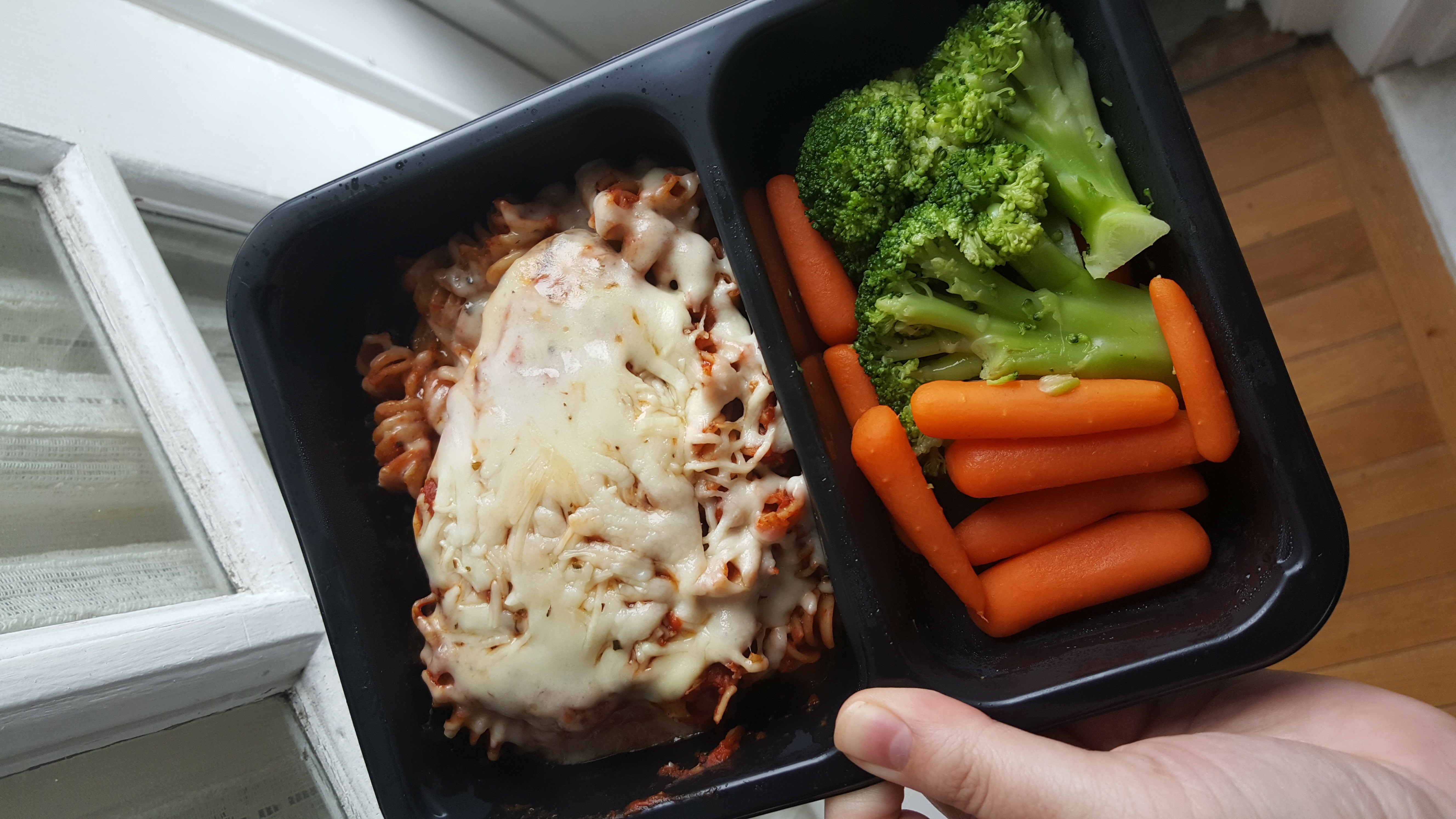 Basically I am a huge fan of the food! My summary is that it is ridiculously convenient, well-rounded meals, that really do taste fresh. They stay good in your refrigerator for the whole week so you always have variety and healthy meals ready to go. It is not for everyone though – since pricing is around $115 to $170 week depending on your plan, where you live, etc. For some people, that isn't too bad – at a rate of about 9 to 12 dollars a meal! And they have introductory offers for your first week for discounts and coupon codes on their newsletter. I know for myself, I would prefer this kind of food any day over the kinds of foods I have read about on nutrisystem or jenny craig or some of the diet meal delivery company's available today (processed and just add water meals – yuck!).
Anyways, a big thank you to them for sending along some foods to try and a peek at what their meals are like (I must say it didn't feel like "dieting" at all!)- I really enjoyed it!
Be sure to head over to 
http://diettogo.com/
 and let me know what YOU think and if you will give it a try / sign up too!