Raise your hand if you are excited for the Oscar's tonight! I love the fashion and although I have barely seen any of the movies, I still make a point to watch some of it. We had a work Oscars potluck lunch and I wanted to pop in and share what I brought.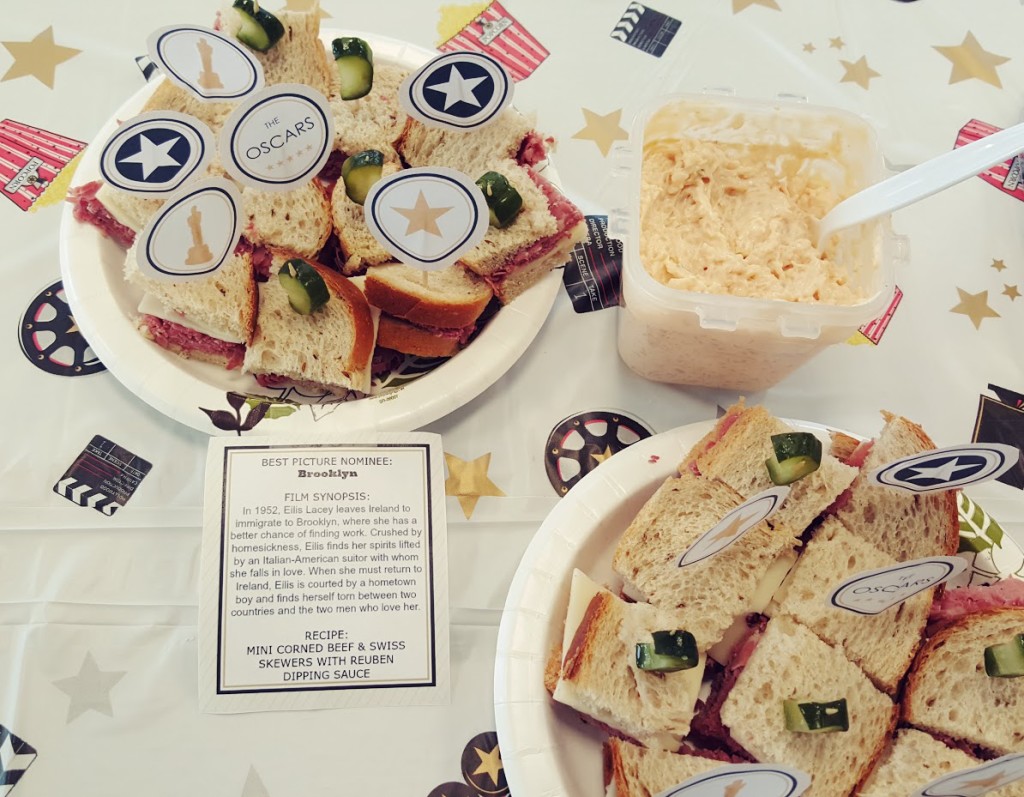 There is a movie up for best picture: Brooklyn. The summary is: "an Irish immigrant lands in 1950s Brooklyn, where she quickly falls into a romance with a local. When her past catches up with her, however, she must choose between two countries and the lives that exist within."
This movie got me thinking…when I think Irish, I think corned beef! And what is more New York then a deli? And there you have it, the perfect addition to the Oscar party spread, incorporating both an Irish favorite AND New York style cuisine. I perused never-ending Reuben recipes online and there were dips and breads galore, but I went the simple route!
I used the following recipe from Hellmanns.com. The ony thing I did differently was I made three sandwiches instead of two and cut them into bigger squares/pieces! And I cut out printable signs from here and put pickle slices on some of the toothpicks, that didn't have the flag printable. Truth be told I have not seen the movie…yet!  Check out the recipe below….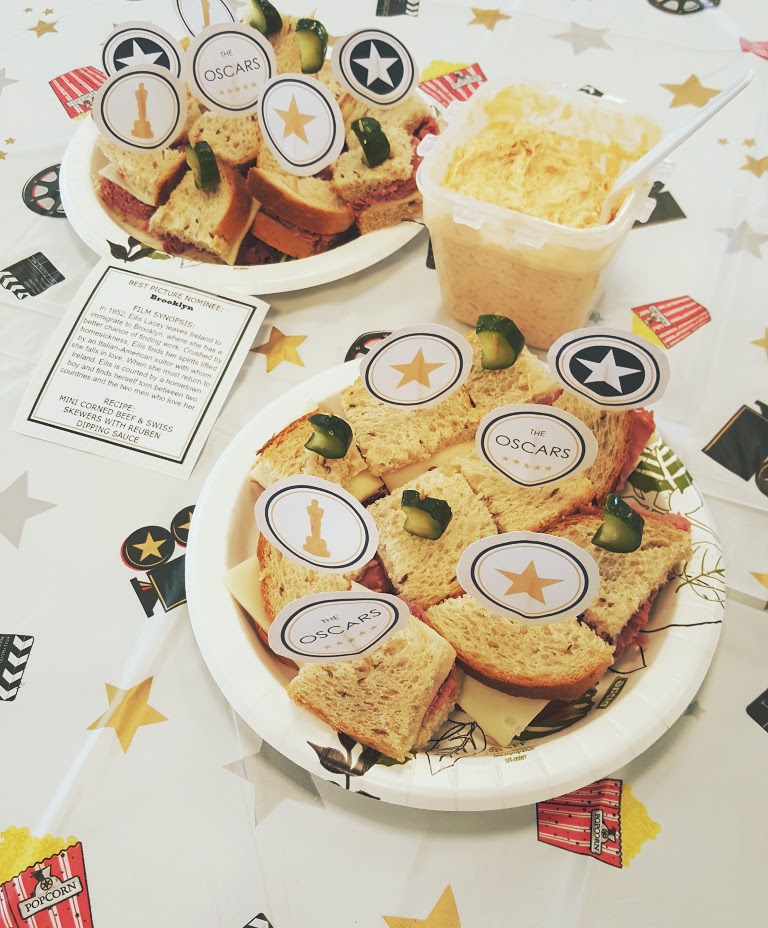 MINI REUBEN SKEWERS WITH DIPPING SAUCE
SERVES:

20

PREP TIME:

10 min
INGREDIENTS
1/3 cup Thousand Island dressing
1 can (8 oz.) sauerkraut, drained and coarsely chopped
4 slices rye bread, crust removed
8 ounces sliced Swiss cheese
8 ounces sliced cooked corned beef or pastrami
DIRECTIONS
Combine Hellmann's® or Best Foods® Real Mayonnaise, dressing and sauerkraut in medium bowl; set aside.
Evenly top 2 bread slices with cheese, corned beef, then remaining bread. Cut each sandwich into 20 cubes and secure with wooden toothpicks. Serve with dipping sauce.
There were a few more fun ideas at the party. Brie cheese and crackers, inspired by the actress Brie Larson in the movie "Room,"  buffalo chicken sliders – a play on words from the buffalo Leonardo eats in the movie "Revenant," cupcakes dazzled up with glitter sprinkles for "Cinderella," and sushi for the movie "Inside Out."
May the best picture win!