Sorry about the title – I coudn't resist ha! I was excited when Pritikin Longevity Center + Spa reached out with some healthy Halloween recipes since I know some of you weren't thrilled with the snacks giveaway going on. Did you know 4% of all candy eaten in the U.S. occurs on Halloween night, making the average trick-or-treater's bag of candy equivalent to 4,800 calories and 3 cups of sugar?  I just learned this fun fact.
Check out these healthier Halloween treats, created by Chef Anthony Stewart, Executive Chef at Pritikin Longevity Center + Spa.
Candy Corn Fruit Cup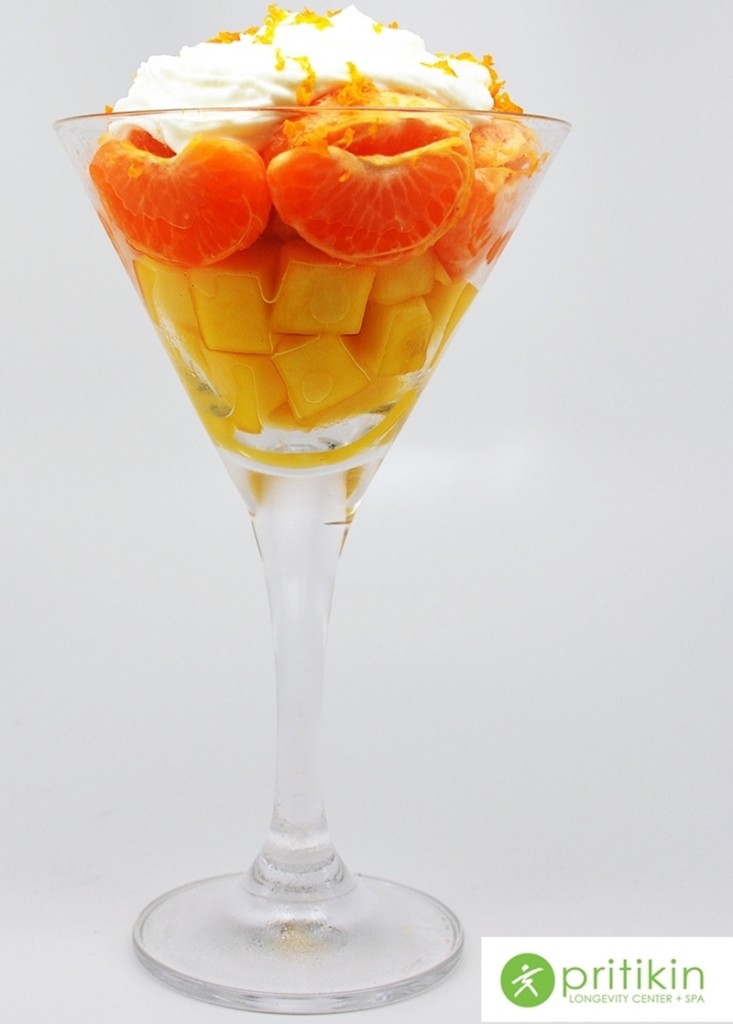 "Excellent for a Halloween party or for a dessert any time of the year. It's healthy, sweet, tangy, and oh-so-easy to put together."
Servings: 4
Ingredients:
2 cups mango cubes
2 cups clementine segments
2 cups fat-free, plain Greek yogurt
Top with zest of clementine
Chocolate Jack O'Lantern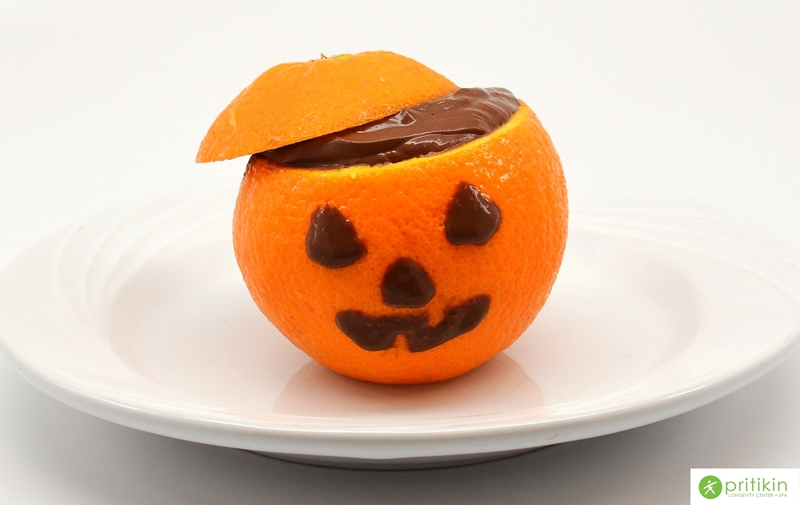 "For spooky, chocolatey fun, carve out oranges and fill with Pritikin's Chocolate Mousse."
Servings: 5 half-cup servings
Ingredients:
1/4 cup water cold
1/2 cup cocoa powder unsweetened
1/4 cup Splenda granulated
2 teaspoons vanilla extract
12 ounces tofu silken, extra-firm
Instructions:
In a medium saucepan, add water and warm over low heat, bringing to a low simmer.
Add cocoa powder to saucepan, stirring constantly until the mixture becomes a fudge-like consistency.
Remove from heat.
Add Splenda to fudge, mixing well. Add vanilla extract, mixing well.
In a food processor fitted with a metal blade, add tofu and chocolate fudge mixture. Process until mixture is smooth and creamy.
Pritikin Halloween Kabobs 

"How easy! Simply skewer cantaloupe cubes and blackberries. And so easy for the kids to pick up and snack on!"
What is your favorite Halloween treat?