I am linking up for this weeks 5 on Friday –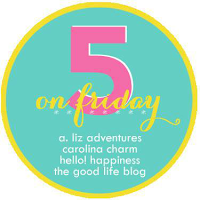 A. Liz Adventures
Carolina Charm
Hello! Happiness
The Good Life
1. Favorite in dining out –
The Cheesecake Factory lettuce wraps are one of my favorite things there. We went to the mall last night and went there for dinner. If you have not tried them, you are missing out. You get a platter with lettuce, satay chicken strips, carrots, cucumbers, bean sprouts, and coconut curry noodles served up with three delicious sauces – peanut, sweet red chili and tamarind-cashew.
2. Favorite in dining in –
If you follow my Instagram @mlev15, you know the garden has been off the charts this summer, bursting to the brims with tomatoes, peppers, cucumbers, onions, carrots…the list goes on and on.
Every single meal at home has included some veggies from the garden.
3. Favorite in subscription boxes – 
I signed up with a blogger discount for August's bestowed box (you can use code LOVEHEALTHY for 10% off!). Just a reminder, it's a monthly delivery of healthy food and snacks. I am most excited to try the eboost drinks mix. The insert letter said there was also going to be a soft snickerdoodle cookie and there was not so I wrote asking and they said it was a misprint! Boo! Ha.
4. Favorite in fashion – 
My August Stitch Fix came right on time! Can you guess which item I kept….
The blue dress! So cute and something I would not pick out for myself but that was flattering and fun for the end of the summer!
5. Favorite date with the husband – 
We went on a last minute beach trip Wednesday!
It is less than a half an hour to get to Nahant Beach so we went there for a few hours.
TGIF! What about you – any favorites to share?