I had lots of fun putting together gift bags for the bridesmaids / maid of honor / matron of honor to thank them for being by my side on the wedding day (and throughout the whole planning process). I treated them all to make-up and hair, on me, on the big day. And then here is what they also got / some inspiration for any other brides on the hunt for the perfect gifts.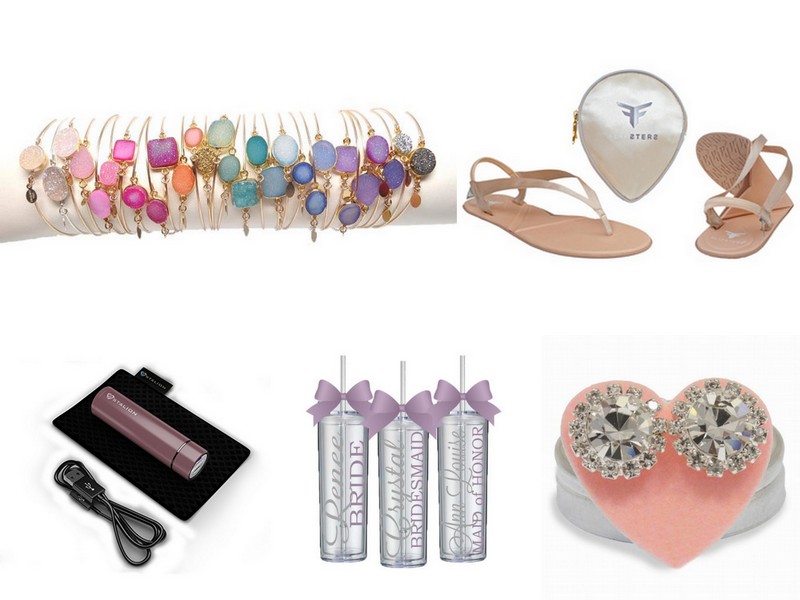 1. Bangle Bracelet – I loved the idea of having a bangle bracelet, that matches the dresses and the wedding theme, handmade. I went with grey druzy silver ones from Wrenn Jewelry, but these also look great.
2. Foldable Flip Flops – I originally was going to do foldable ballet flats but in the middle of summer flip-flops that fold up and go in your purse worked great. After wearing heels all day, I knew the girls would need a foot break!
3. Portable Phone Charger – I absolutely hate when my phone dies because I am obviously obsessed with taking photos for this here blog. SO a portable phone charger for the girls made it so they wouldn't miss a text, pic opp, call, or whatever, when we were out and busy from the minute we woke up to bed time.
4. Personalized Bridesmaid Tumblers – my sister actually treated me and the girls to tumblers (like these) with our names and we sipped mimosas out of them the morning of the wedding! But the bride could also grab some to include for her maids.
5. Stud Earrings – My wedding was all about the sparkle, so stud earrings were a no-brainer.
And a nice addition to the gifts….
6. Bubbly – Champagne…wine…beer..I knew something to drink had to go in the gift bags. I am lucky enough to have a husband who makes homemade beer! Each girl got a couple to enjoy of his strawberry wheat! He made the labels and everything.
If you don't have homemade beer, the next best thing is slapping a personalized label onto beers you buy, like these!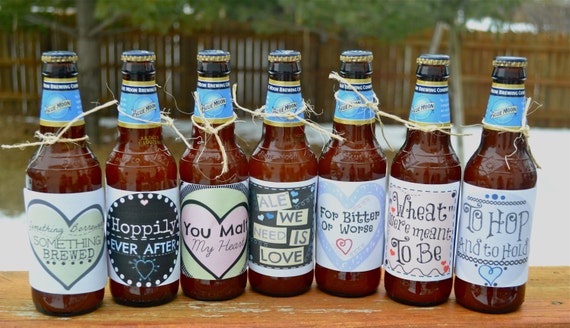 What did you give your bridesmaids or what was the best gift you received from the bride?