I am linking up for this weeks 5 on Friday –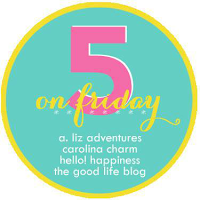 A. Liz Adventures
Carolina Charm
Hello! Happiness
The Good Life
1. Favorite from July 4th –
What a perfect festive fruit salad a friend brought to share at the 4th of July celebration. I love the red (strawberries) white (banana) and blue (blueberries) theme and the star shaped watermelon!
2. Favorite night out –
Sal and I have made it a point to take a break from wedding planning mania and have date nights…including a Mexican meal complete with fajitas and margaritas on the patio of Mexico Lindo and a Mariachi band.
3. Favorite food – 
I cannot get enough sushi lately! It is the perfect food that is light and fresh and perfect for hot weather.
Sushi at Yoki…
Sushi at All Seasons Table…
4. Favorite pastime – gardening
The garden is flourishing right now! If you follow me on instagram @mlev15  you have already seen some of these pics…but the Zucchini is insane right now.
5. Favorite in wedding – 
We applied for our marriage license and pick it up Tuesday and by Friday, it will be signed, sealed, delivered, and I will be a Mrs! We went out to celebrate at Not Your Average Joe's for lunch and had lettuce wraps to share and then I got the ahi tuna and for the fiance, steak tips, green beans, and mashed potatoes.
I can't believe my next Friday Favorites will include wedding favorites! Ahhhh! Anyways, what is new – what are this weeks favorites for you?