I just wanted to drop in and share some stories and photos from my trip to Florida to see the fam! My mom, step-dad, and two sisters are all down there and I don't get to see them nearly as much as I wish I did.
Check out my view from the balcony of my hotel room, at the PGA Resort and Spa (see more posts about PGA here). Double whammy – I could see the swimming pool and golf!
Healthy snacks and water from my sweet sister to enjoy in my hotel room!
We spent tons of time with my mom, who has Parkinson's disease. Sigh. Really sad to see her going through this!
But my sister and I also snuck away for some girl time at her neighborhood pool.
And the three sisters found time for a cocktail Friday night!
Onto the food!
We hit up Mexican restaurant Calaveras Cantina. I LOVED the atmosphere and decor. The drinks list was great but we skipped alcohol during lunch and instead got refreshing watermelon lemonades.
For lunch, my sister and I split fish tacos and brisket tacos. We both preferred the fish one – the brisket needed a sauce or spice or some umph! The beans were smothered in fatty bacon. NOT good. It was a weird texture and definitely not appealing to us. It was an OK lunch. Nothing fantastic unfortunately.
Another night, a family dinner out was had at my parents favorite place: Duffy's. I made sure to keep it light (hello – wedding day countdown) and got seared tuna to start and steak, salad, and zucchini. Very tasty and low key meal! Unfortunately the salad was not as healthy as planned – cheese and crouton mania, but what can you do.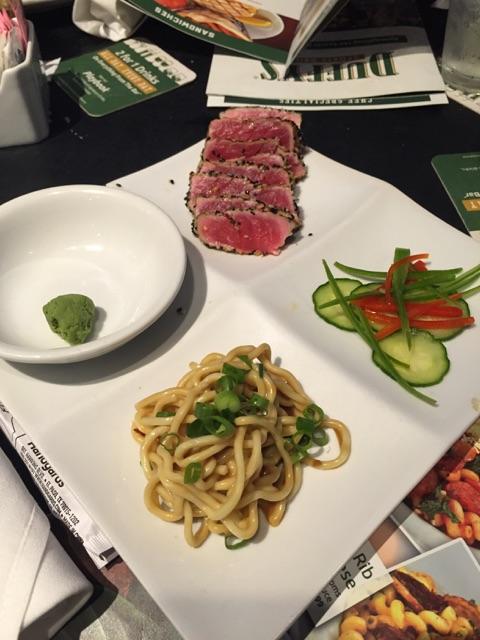 Speaking of salads I ordered a southwest chicken salad at BJ'S Restaurant and Brewhouse for lunch one of the days of the trip. Yuck. I don't know what I disliked exactly – the canned corn, the dry chicken, the unflavorful dressing….but it was not good. My sister on the other hand had an awesome turkey club and fries and hers was WAY better.
And we tried the stuffed mushrooms small plate, which actually tasted better then it looks!
The rest of the meals were very casual – subs, salads, take-out etc. Even though it SEEMS like I was picky and not liking much of the restaurant food, I did really enjoy all the meals all around. But more importantly loved getting to see the parents and sisters and their guys and catching up. It was on one hand extremely sad that both the parents are sick (the step dad had cancer and is now dealing with leg issues) on the other hand amazing to have family time and get together since it has been ages. Until next time FL!
Have you been to Florida? What are your favorite places there?