I am linking up for this weeks 5 on Friday –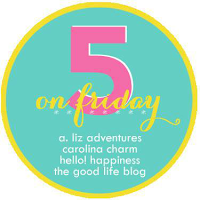 A. Liz Adventures
Carolina Charm
Hello! Happiness
The Good Life
1. Favorite in food:
One of my bestie's is in town (she is usually working on cruise ships with her fiance and traveling) and we hit up a restaurant in Assembly Row, Earl's Kitchen and Bar.
We dug into wings and ribs to start. I got the watermelon pina colada, which I had never heard of or tried anywhere – and it came in a fun, fancy cup. For the entree, I just split the chicken tacos with my friend and it came with half a portion of fries. I will say it was jam packed with flavor!
2. Favorite freebie:
Speaking of my friends being in town, we went out another night to Ferry Street Food and Drink. We did trivia…and won! We received a $20 gift card towards our feast of a meal. We tried the green bean "fries," brussels sprouts, and BBQ meatballs with grits, as our starters. And then I went with the burger. I put aside the bun because hello- wedding countdown has begun! I need to get rid of any calories I can.
Really good food! Everyone loved their entrees – Sal got the grilled pork, and then my friends got a burger and a veggie sandwich. For dessert, who can resist sharing the pb&j cookie a la mode! A warm peanut butter cookie with a scoop of ice cream and fruit jelly on top. Needless to say the rest of the week was smoothies and salads to make up for those meals.
3. Favorite for the wedding:
We have been trying to check things off the wedding to-do list and we met with the florist and also the priest. I walked down the aisle, and it got us super excited for the big day! We will go back a few more times, but it was mostly to figure out timing of everything and fill out paperwork and all that stuff.
4. Favorite in shopping:
I have been shopping online like crazy lately. From decor for the wedding to fun spring dresses like this one from Zulily! I hope it fits and looks as cute as it does on the model!
5. Favorite giveaway:
Soooo now onto the best favorite – something  for YOU guys! This is a giveaway just for the Boston locals, from Just Add Cooking, who I blogged about here, here, and here,
What about you – what are this weeks favorites?