I am linking up for this weeks 5 on Friday –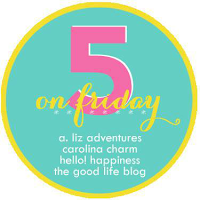 A. Liz Adventures
Carolina Charm
Hello! Happiness
The Good Life
 1. Favorite freebie –
I don't know what I love more…hosting giveaways or winning them! I won the February PopSugar box from Hello Subscription! Yay! I love the cutting board and the nail polish most!
 2. Favorite in shopping:
I got my March Stitch Fix – aka my fourth fix.  It is hard to tell from the photo but I received a navy blue skirt, a orange/coral top, a green and grey dress, a grey blazer, and a mint scarf with a white bird pattern. The skirt was not that flattering on me, I hate the bow on the dress, I really didn't think I would get much wear out of the top, and the grey blazer was made out of sweatshirt material and has no buttons and was just not my style. BUT  the scarf on the other hand is up my alley and totally spring-y so that is what I kept!
3. Favorite in food –
Not exactly wedding dress/diet friendly but the fiance and his dad dusted off their aprons and perfected their amazing pizza dough at home! For newbies around here, they just closed their pizza place last summer so the dad could retire and the fiance could move on and find his way with a new career. Anyways Sal made half mushroom and half prosciutto and it came out delish.
4. Favorite work out-
I did five straight days of T25 work out DVD's! I am pretty darn proud of myself! Today you can rest up and tomorrow stretch and then you start 5 days in a row all over again on Monday!
5. Favorite in fashion-
Check out these beauties I got on Zulily!  They are Fuzion Creations – Cubic Zirconia & Sterling Silver Pyramid Earrings for $19.
What about you – what is new this week? Have a good St. Patrick's Day? Happy Spring!