You guys! Stitch Fix is so much fun! If you are unfamiliar, you fill out a style profile and each month, you are sent 5 items for you to potentially purchase, for the cost of $20 styling fee  (you can see my first order here). Then if you keep at least one item, the fee goes towards your purchase or if you keep ALL the items you get a discount. It is not the cheapest I will admit (each item is from $25 to $100), when it comes to cost per item, but I think if I treat myself to one or two things each Fix, it makes it worth it for awhile. Hey, you know it is 20 degrees right now, what else do I have to look forward to, ha? Anywho, here is my roundup about what my stylist picked for me, what I returned, and what I kept!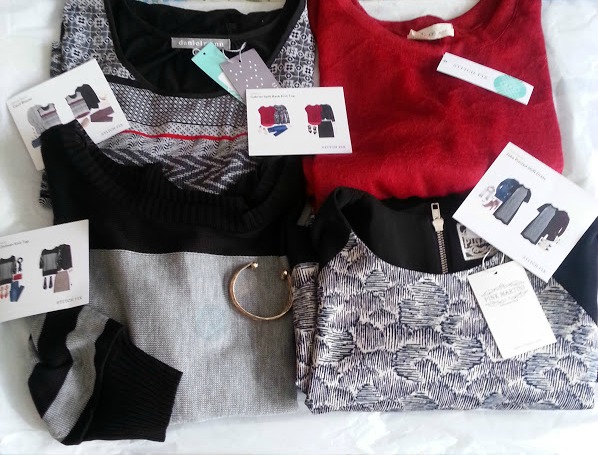 Item #1 – Cuff bracelet, $28
Item #2, Black and white shift dress, $88
Item #3, Printed top, $58
Item #4, Red top with funky back, $38
Item #5, Black and grey sweater, $48
Ok so can you guess what I kept….
Two of the five items….
Alright, I kept the black and grey top and the cuff bracelet! I have nothing like either of them so I figured why not. The dress didn't fit my curves well and the red shirt was not my style. The other printed top would actually have been nice but I am on somewhat of a budget, so I refrained! So back those items went and into my rotation the new items will go.
What do you think – what item did you like best?
(PS if you want to find out more about Stitch Fix or sign up, pretty please use my affiliate link to sign up here).