What a fun weekend, filled with food, drinks, and a tiny bit of being productive for my small biz. As I mentioned in my favorites from the week, yesterday was our anniversary (5 years of dating!). Dinner out included going to a Beacon Hill restaurant Antonios. We were lucky enough to be gifted $100 (a year ago for our engagement) which went a long way here. We ordered a bottle of red wine, caesar salad to share, and Artichokes Margarita. For this dish, they lightly fry artichokes and serve them with a lemon, butter, and wine sauce.
Sal got the Ciopino (seafood over pasta with red sauce) and I went with their daily special which was bowtie pasta with shrimp and scallops in a pink/vodka sauce. I must say it was a big portion! I took home half for the next days lunch. We really enjoyed the restaurant and were thrilled by the prices since the gift card covered everything except tip. The restaurant itself is small and cozy and the waiter was helpful, BUT it is also super loud and busy.
So truth be told, I was VERY tired and although Sal wanted to stay out after dinner and do coffee and dessert somewhere or cocktails I needed to go home which sadly led to a bit of a tiff. Eh, what can you do. Come morning we were back to our usual happy selves. Onto Saturday night! Wedding time! The fiance's friends brother got hitched at the Sheraton in Framingham.  They will never forget what their anniversary is….
How pretty are all the chandeliers?
And the centerpieces – SO simple but elegant.
The menu was rolls, wedding soup, and caesar salad.
Chicken was the main course and for dessert, which I have no pics of, there was wedding cake and a make your own sundae bar – which you will be surprised to hear I didn't have! Too many wine spritzers I guess!
Here is me on the right with my future SIL on the way left and in the middle her SIL!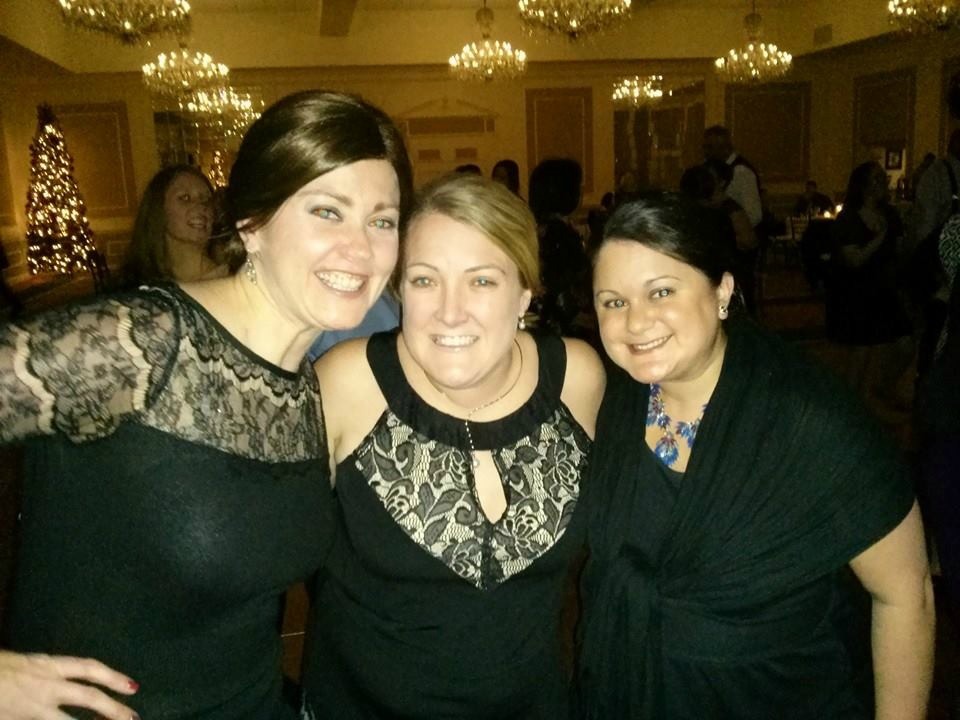 How was your weekend?