I got my first PopSugar Box in the mail today!
I am not a monthly subscriber but I bought my best friend a 3 month subscription and was impressed with what she has gotten so far. So when I saw the special one time delivery of a fall box I figured I would splurge for myself.
Check out what is in the box!
For $100, the box contained the following 6 items:
Joie Knit Cap ($98 value)
Marchesa Voyage for Shopstyle Scarf ($140 value)
MAKE Slik Cream Lipstick($25 value)
Indie Lee Brightening Face Cleanser($32 value)
Byway Capsule Parfums ($38 value)
Sugarpova Chic Gummy Candy ($5.99 value)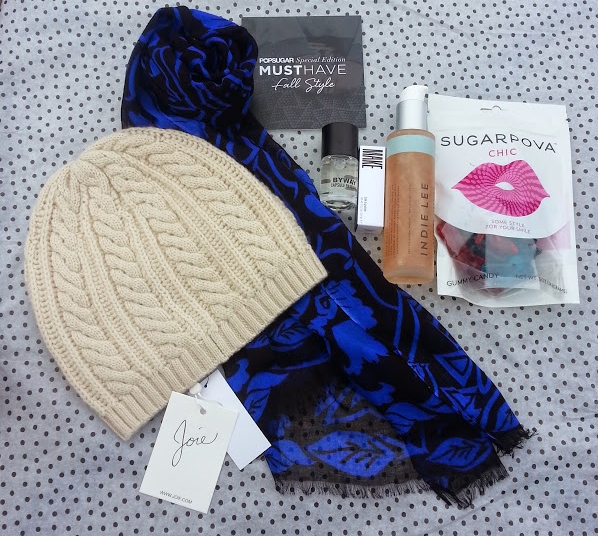 That is a total of $338.99! Whoa!
The scarf is so soft and I love the colors. The hat is soft as well and will be perfect for winter. I LOVE gummy candy so that is of course a win. I haven't tried the beauty/body products yet but a good cleanser, lipstick, and perfume is always good to have! All really high quality brands and items that will come in handy!
What do you think of  PopSugar / Must Have's? Did you receive this box or do you see anything that stands out?