I am back on the Bestowed wagon! I skipped June and July but after getting an offer for a blogger discount, I couldn't resist getting my monthly box of healthy snacks!  The August 2014 Back to School Box featured healthy snacks and products for people of all ages.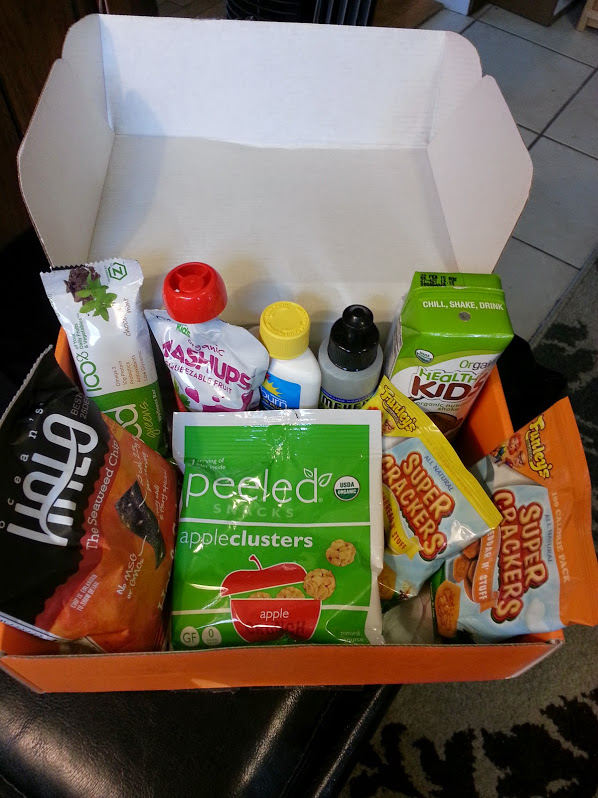 The nine items in the box included:
1. Ocean's Halo Seaweed Chip
2.  Orgain Healthy Kids Nutritional Shake
3./4. Two kinds of Funley's Super Crackers
5. Good Greens Chocolate Mint Bar
6. Plum Berry Squeezable Fruit
7. Peeled Apple Clusters
8. Unburn Sun Burn Relief
9. Meyers Dish Soap
I think this box has a nice mix of products! Favorites are definitely the Funley's crackers and the chocolate mint bar! I tried the apple snack and it was an interesting texture – it is dried apples put into small balls you can pop into your mouth. It is dry at first like granola but then softens up in your mouth. Really healthy and pure but I was surprised it wasn't as sweet as I would expect.
I have to admit I am not as gungho to try the seaweed chips – they look a little bit scary to me even though I love seaweed salad and sushi. Dish soap is always useful to have on hand and with all the sunny weather in Boston lately, so is the sun burn relief! I still will try the shake even though it is made for kids and the fruit puree too. All and all a good mix of products, geared towards moms / families / back to school. But even though I am not a mom, I still found enough things I like to snack on and use!
Good news! You too can discover the best healthy food and snacks with monthly deliveries from Bestowed! Sign up by 9/15 and get your first month FREE. For more info or to sign up, visit the website here. To get your first month free, use the code FIRST at checkout. Code valid for 3 and 6 month memberships. Happy snacking!
What do you think? Any favorites in the box?