Love With Food has arrived! The theme is "Fun at the County Fair."

What's in this box?
Pineapple + Coconut Fruit Ice by Smooze!
Montreal Steak Spice Seasoning Potato Chips by Covered Bridge
Cinnamon Grahams by Skeeter Nut Free
Salty Peanut Salt Water Taffy by Salty Road
Salty Caramel Apple Salt Water Taffy by Salty Road
Lollipops by YumEarth
Crispy Cheddar Crackers by Back to Nature
Kettle Sweet Peanuts by Love With Food
Nutty Rice Bites with Blueberries by 180 Snacks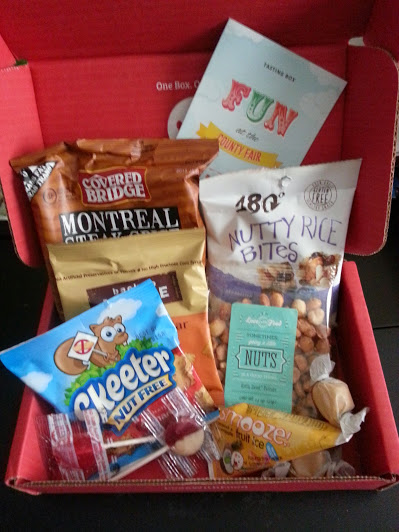 What a great mix of sweet and salty snacks. Crackers, nuts, and chips for an afternoon pick me up and for dessert or a sweet treat – lollipops, taffy, and other goodies! Starting at $10 a month, I am still thinking this subscription is a good deal for trying new brands and having a variety of snacks on hand for work, your car, home, your kids lunches, or whatever! And it's win win since they donate a meal to a hungry child for every box sent out.
What do you think? Look like a good mix of products?