Love With Food for June arrived to my new pad this week! And it is a really good one with the theme "take me out to the ballgame."  They are actually on Rue La La offering 6 months or one year subscriptions for  $45.00 – $90.00 instead of their usual $60.00 – $120.00.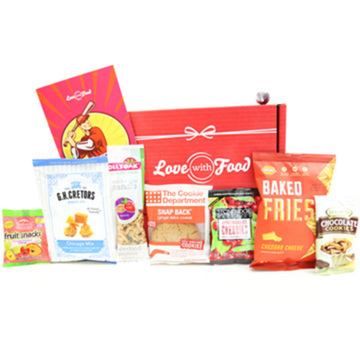 What is in the box?
Pineapple, Raspberry and Mango Fruit Snacks by YumEarth Organics
Gum Balls by Tree Hugger Gum
Cheddar Baked Fries by Snikiddy
Snap Back Cookie by The Cookie Department
Chicago Mix by G.H. Cretors
Montmorency Cherries by Stoneridge Orchards
Good For You Granola, Almond Butter & Jelly Sandwich, by Jolly Oak
Chocolate Cookies by Dolcetto
My thoughts? I LOVE this box! I immediately ate the chocolate cookies and they are light and wafer-like in texture but filled with creamy chocolate, for 150 calories! I have had the fries before and will save that to eat alongside a sandwich and you all know I love having granola bars lying around for breakfast or snacks.  I am also a huge fruit snacks or dried fruit fan for when you need just a little bit of sweetness after dinner and I am very curious about the cookie which has ginger and cayenne and is supposed to be for detox. The Chicago mix has a sweet and salty combo so that will make a great break-from-work snack as will the gum.
I guess in terms of the theme of baseball games, the fries and the popcorn mix go with it….I would have thought peanuts would have been a good addition but I guess the granola bar has nuts. So a little bit of a reach in terms of the theme but still good snacks in there so I am happy!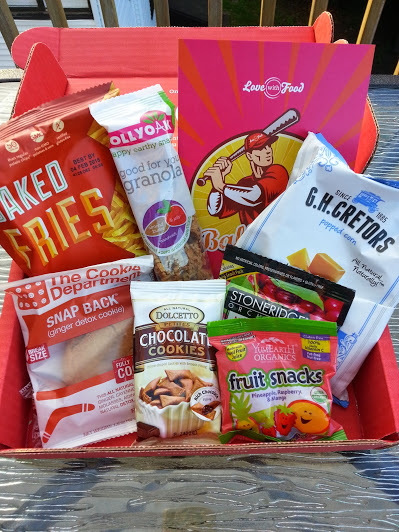 What do you think – great box, am I right?