May Bestowed box has arrived!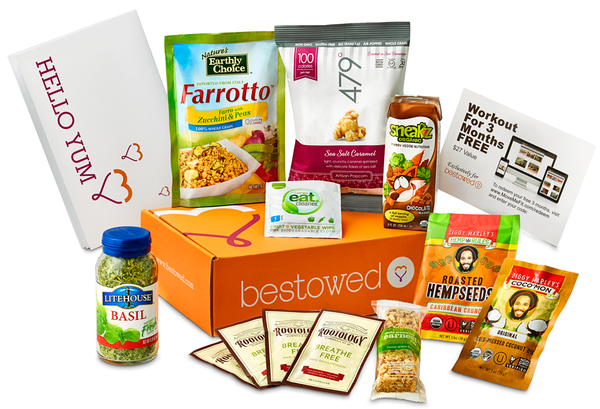 If you are unfamiliar about Bestowed…
"Get an assortment of healthy snacks, beverages, and other goodies delivered to your home or office. All products are expertly curated by nutritionist Heather Bauer and every box is loaded with expert tips, recipes, and advice."
So what was in the box?
479 Degrees Popcorn Single serve Sea Salt Caramel
Earnest Eats Almond Trail Mix Bar
Eat Cleaner Grab N'Go Fruit and Vegetable Wipes
Instantly Fresh Herbs Basil
Nature's Earthly Choice Farro Zucchini & Peas
Rootology
Sneakz Organic Chocolate Milkshake
Ziggy Marley's Organic Hemp Rules Caribbean Crunch Roasted Hempseeds
Ziggy Marley's Coco'mon Coconut Oil (14 oz)
The first thing I dug into was the Sea Salt Caramel popcorn! A good portion size, very sweet and tasty for a snack! I also tried the trail mix bar for a quick breakfast and was not impressed unfortunately. It was not my favorite texture and was pretty dry and didn't have much flavor. Next on my list to try is the Farro side dish package and I have the milkshake waiting in the fridge for a chocolate craving to strike!
The wipes will be useful for cleaning apples and other grocery store goodies when we move to our new apartment next week! And really dried basil always comes in handy around here with an Italian fiance and all. I think the only things I am not quite sure what to do with or excited about is hemp seeds and coconut oil but I will look around for ideas online or give them away! Thoughts?
And then the Rootology description says it's " a blend of 13 concentrated herbal extracts that work to immediately to relieve sneezing, congestion, sinus pressure, runny nose, itchy watery eyes, and headache" so perhaps I will give it away to an allergy sufferer or tuck it away for when my next cold sneaks in.
Discount code alert! Use HELLOYUM34 to get your first Bestowed box for $10 (normally $19). This code expires on 6/15! Also you can shop for individual items on their site so if a whole subscription isn't for you, you can just pick out a few snacks.
What do you think? What would you have liked best in the box?