The May Love With Food Box has arrived and they shared a little note card in the box inviting our friends and family to sign up too and you guys get your first box FREE (besides paying a $2 shipping fee), valid through May 31st by clicking here!
In case you don't know, the low down for Love With Food is:
8+ new snacks per month, 1 meal donated to Feeding America and Share Our Strength
At least 10 points each month earned
Snacks are organic, all natural, GMO-free, gluten-free or free of artificial junk
Free shipping
Cancel anytime
Cost – starting at $10 a month
This months box makes me very happy.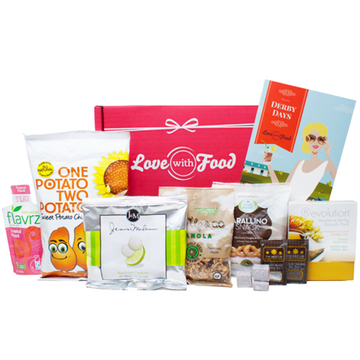 What's in this box?
Honeybush Caramel, Southern Mint and Tropical Green by Revolution Tea
Tarallino Snack with Extra Virgin Olive Oil by Terre Di Puglia
Tropical Peach Drink Mix by Flavrz Organic
Sweet Potato Chips by One Potato Two Potato
Sea Salt Caramels by Le Caramel
Key Lime Cookies by J&M
Giddy Up & Go Granola by Thoughtful Food
Hickory Smoked Sea Salt by The Spice Lab
Italian Black Truffle Salt by The Spice Lab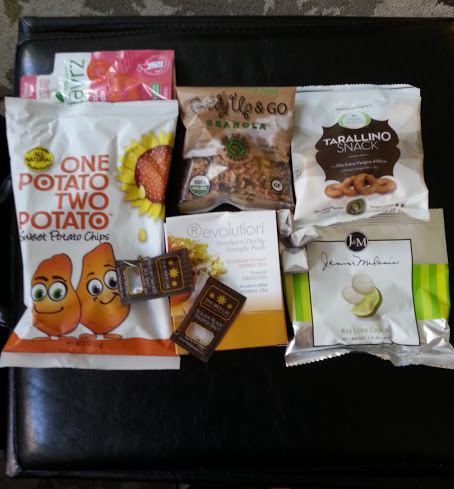 The theme of the box is Kentucky Derby – Here is the description –
"Place your bets, and dress to impress – we've reimagined classic Kentucky Derby fare with a a focus on all-natural and healthy snacks to keep you going until you cross the finish line. But in our eyes, you're already a winner, because you helped feed a hungry child in the US again this month."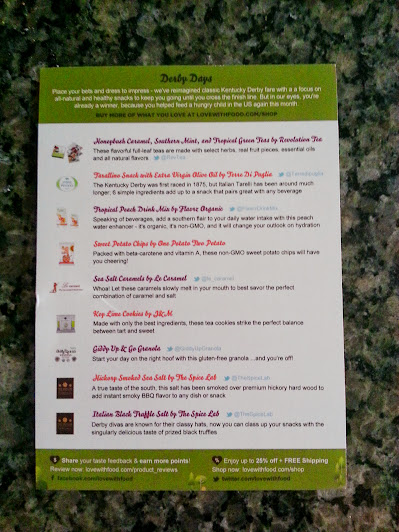 My thoughts? There are three kinds of tea and I am a big tea lover, so that's a great find and I have never tried the drink mixes by Flavrz Organic. I mentioned in a recent Friday Fave's post how much I liked sweet potato chips so it will be interesting to try a new brand! Granola I will sprinkle into Greek yogurt, sea salt I will share with the fiance and incorporate into a meal somehow (any ideas for us?), and caramels or cookies will be a good small snack for a sweet tooth while the EVOO snack will be good for a savory snack. So I literally like every single item which may be a new record? I feel like I always have one or two things I give away from all my boxes.
What about you – look like a good box? Feel like signing up, do so here
(disclaimer – you get a free box, I get points towards their food market)