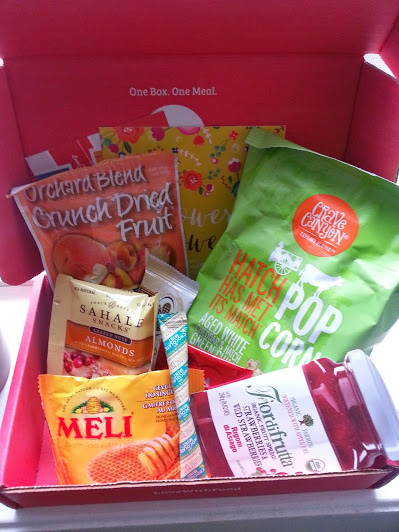 April Love With Food has arrived!
What's in this Box?
Orchard Blend Dried Fruit by Sensible Foods
heart-tee by Wild Hibiscus Flower Co.
Creamed Honey with Chocolate Mint by Vintage Bee
Almonds with Cranberries, Honey + Sea Salt by Sahale Snacks
Popcorn by Crave Canyon – Aged White Cheddar & Hatch Green Chile
Honey Waffle by Meli
Fiordifrutta Organic Fruit Spread by Rigoni Di Asiago
Organic Energy Bar by BumbleBar
The theme of this months food subscription box is Flower Power! "After a long winter, spring is finally in sight. Let's all take a moment to stop and smell the roses – and enjoy the spring thaw with these flower inspired treats."
Fun right? I dug right into the popcorn and loved the spicy kick of the chile's! I also toasted up some wheat bread to eat the fruit spread. It was in a packet and was sort of watery which I guess is from the added apple juice but it did have good flavor from the blueberries! I am excited about the nuts and the tea! And then I am sure the energy bar will be one of the last things to eat and the honey waffle. As usual, it is all brands I am not familiar with, which makes it a fun box to try new healthy snacks.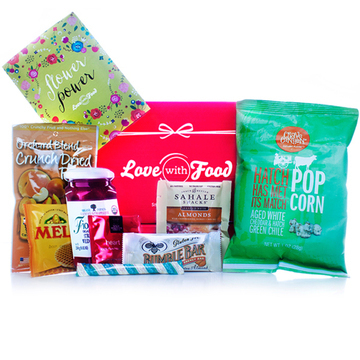 What do you think – look tasty to you?
PS If you want to sign up, here's the button!