Have you guys signed up for HauteLook yet? Basically it is a daily deals website (similar to Rue La La, Zulily, etc) where they have flash sales of different brands with amazing discounts. Every day in your inbox you have an email with tons of sales to look through in brands you love, in categories ranging from clothes to home decor to accessories, and so on. I recently found out through the blogosphere that they offer beauty bag blowout sales where they curate a bundle of items and sell it at a discount! I took the plunge and purchased one earlier this month and I am really happy with it! It feels like you are getting a subscription box like Glossybox or something!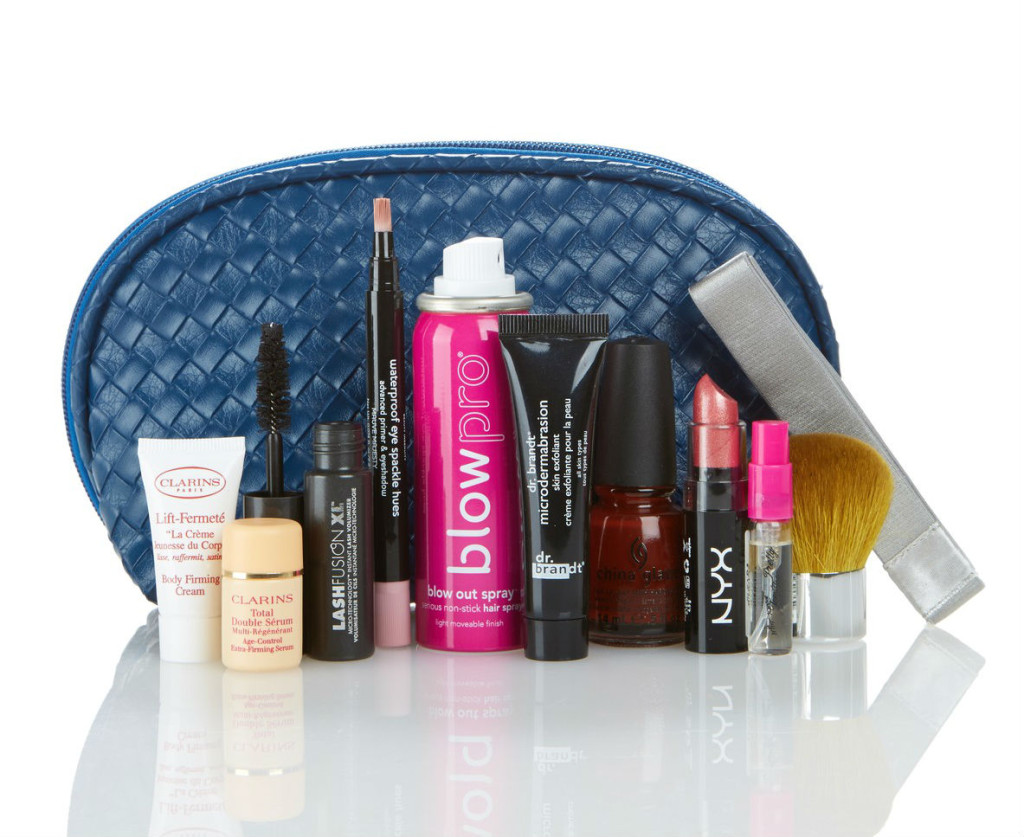 For $22 (including shipping and tax) I received a 12 piece set of beauty products / make up and other goodies all in a sturdy navy blue make up bag.
It includes a combo of brushes, full size or sample size products including:
1. Blow Pro Blow Out Serious Non-Stick Light Hold Hair Spray (1.5 oz., Made in USA)
2. China Glaze Mini Nail Polish (0.5 fl. oz., Made in USA)
3. Clarins Total Double Serum Age -Control Extra-Firming Serum (0.2 fl. oz total, Made in France)
4. Clarins Body Firming Cream (0.28 oz., Made in France)
5. Crown Brush Kabuki Brush (2.25″, Imported)
6. Dr. Brandt Microdermabrasion (0.25 oz., Made in USA)
7. France Luxe Silver Headband
8. Fusion Beauty LashFusion XL (0.25 oz., Made in Italy)
9. Laura Geller Waterproof Eye Spackle Hues (0.07 oz., Imported)
10. NYX Glam Lipstick Aqua Luxe (0.16 oz., Imported)
11. Betsey Johnson Too Too Pretty Eau de Parfum (0.06 fl. oz., Made in USA)
12. Blue make up bag
I am seriously so pleased with this bag! You get a lot of bang for your buck considering one make up brush can be well over $20! I am excited about taming fly-away hairs and frizz with the hairspray and the nail polish is a nice shade while it is still so chilly out. I am definitely going to keep my eye out for more of these in the future.
Good news….I have extra! I am selling a few and I also have one to give away to you! Good luck!