It came! The March Love With Food Box! I am very intrigued by quite a few of the items and yet again they are ALL new-to-me brands, which is why I love food subscription boxes.  The box starts at $10 a month and you get 8+ new snacks at your door plus you earn points which you can use to buy more snacks."Snacks are either organic, all natural, GMO-free, gluten-free or free of artificial junk" and with the purchase of each box, they donate 1 meal to hungry children in America!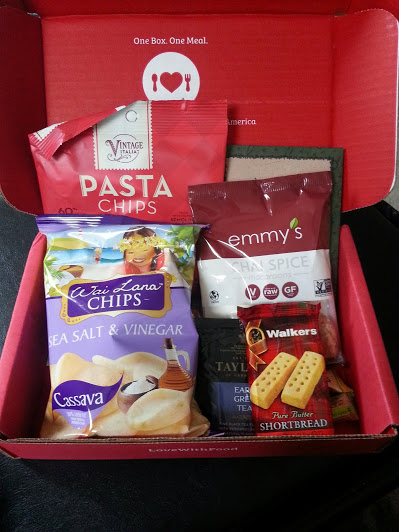 The box came with:
Cassava Chips by Wai Lana
Shortbread Fingers by Walkers
Earl Grey Tea by Taylors of Harrogate
Chai Spice Macaroons by Emmy's Organics
Lollipops by Pierrot Gourmand
Taco & Burrito Seasoning by Desert Gardens
Pasta Chips by Vintage Italia
Ginger Chews by Chimes
The theme of the box is "Flavors of the World" so for instance the chips are Hawaiian, tea is from England, there are Indian spices in the macaroons, etc, all of which is listed on the info card.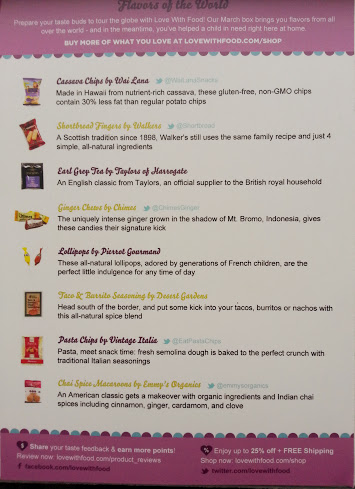 Of course standouts for me are the two kinds of chips. Also the seasoning packet since I love all types of tacos…soft, hard, salad..you name it! The macaroons should be interesting and different while the shortbread cookies and tea seem fairly standard.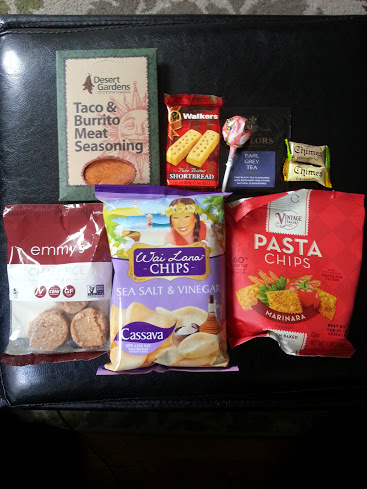 All and all another great one. Check out past Love With Food Box Reviews here.
What do you think? A winning box or no?