It's Wednesday / hump day! The day is already flying by since I had a few orders to bundle, some writing to do for CBS, and lots of emails to catch up on. Instead of featuring photos from my 3-5 meals/snacks I will eventually have today, I wanted to show off some eats I have had the past week for the weekly What I Ate Wednesday link up!

Last Friday, the fiance and I did some errands in the Chestnut Hill area of Boston. I wanted to try out the
Seasons 52
they have! I have been in Florida and loved it but haven't visited one of the areas new locations. A few things made it a pretty unforgettable dining experience. First of all, we were the youngest there which can be funny. Also there was a piano with a live female singer rocking out. She did a mix of songs from all eras but we still sort of felt like we were in another time period based on the song choices and we felt like we were in a SNL skit like this one…
Anyways- onto the food! We started off with a flatbread which the fiance liked more then I did. I felt as if it was almost too thin? I dunno. I just wasn't that gungho about it.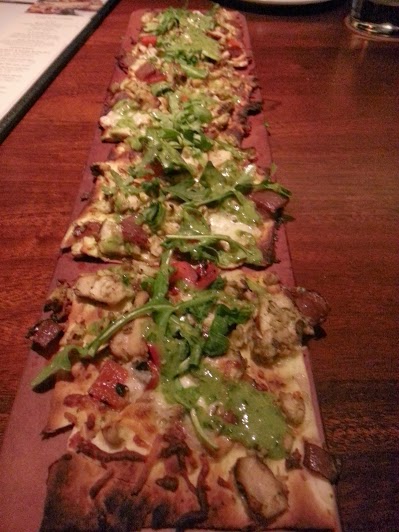 I think maybe I was disappointed since it sounded so flavorful. The menu says: Grilled Garlic Pesto Chicken – fresh mozzarella cheese, balsamic onions, roasted red peppers, and arugula. Maybe it needed more veggies and even more balsamic to give it more of a kick. Onto the next course. Perfectly prepared scallops!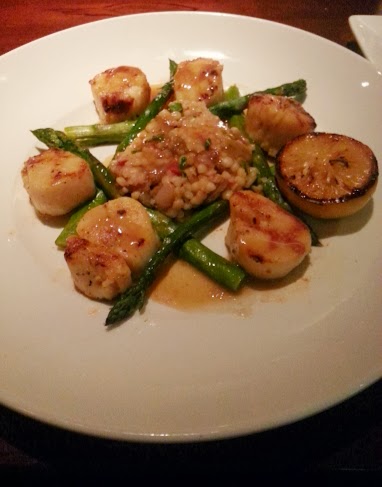 I absolutely loved the scallops and the grilled lemon to squeeze on top of it. The menu said: Caramelized Grilled Sea Scallops – roasted asparagus, and sun-dried tomato-mushroom pearl pasta. The only complaint I had about this  dish was the texture of the pasta, which was a bit overcooked/ on the mushy side. But the server was so attentive, I had a couple of drinks, and all of it came together for a great meal. And for dessert….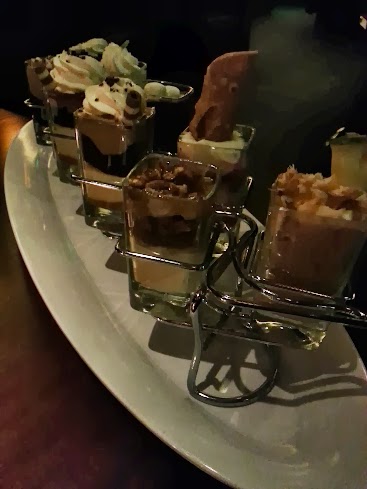 They come around with shot glass desserts! Here is the Mocha Macchiato and I also tried one of the mini pb desserts!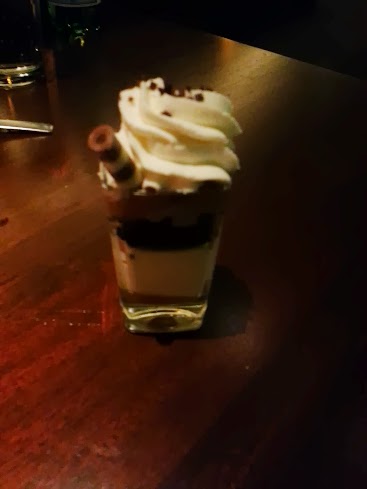 All and all a great time and though we might not rush back (we ended up spending around $120) it was fun to do something different.
Next up is Monday nights dinner at Teresa's in Middleton! It was a gathering for our engagement with the fiances fam. OMG. Seriously the most delicious pasta dish ever! And you all know I eat my fair share of Italian food, living in the North End and all

Anyways I got a dish that featured lobster meat, wild mushrooms, and cherry tomatoes, over Pappardelle with a wine/butter sauce. Tons of lobster and I loved the fresh, huge mushrooms. It was a keeper and the following nights dinner too!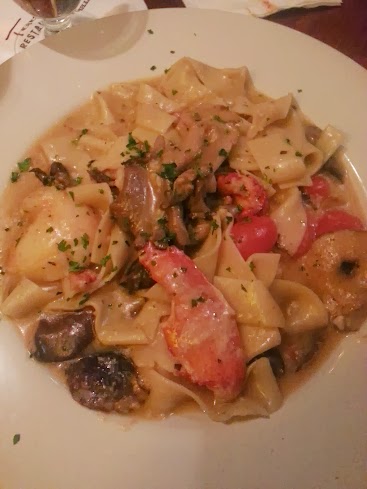 And for dessert – always a favorite! Chocolate lava cake alongside vanilla ice cream! It wasn't gooey / oozy in the center like other versions we have had but it still was warm and hit the spot!
Ciao for now!
What eats did you love this past week?