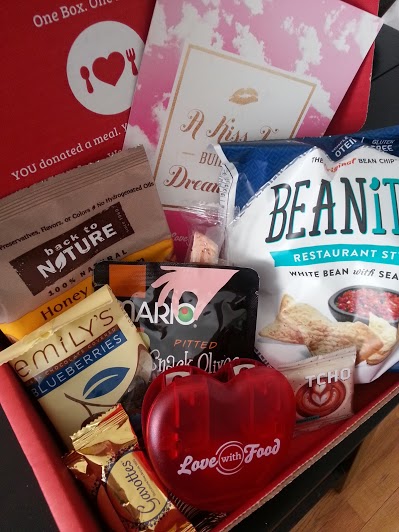 Look what came! My February Love With Food subscription box. I am very pleased with this one!
Here is the low down on the snack packed February 2014 Tasting Box –
Snack Olives by Mario Camacho
Dark Chocolate Crepe Dentelle by Gavottes
Restaurant Style White Bean Chip by Beanitos
Dark Chocolate Covered Blueberries by Emily's
Chocolate Honey Graham Sticks by Back to Nature
PureNotes Dark "Chocolatey" by TCHO
"Mokaccino" Serious Milk Chocolate +Blue Bottle Coffee by TCHO
Chocolate Chip Biscotti by Biscotti di Suzy
Plus a handy heart shaped chip clip!
I love this box because there are tons of sweet choices like the chocolate covered blueberries and the Tcho chocolates which makes sense since it is Valentine's Day / month after all, but then I got my salt fix from the chips or olives. It is all new brands (to me) and all things I like so I won't have to pawn anything off on anyone!
Just to recap, the box starts at $10 a month and you get 8+ new snacks at your door each month plus you earn points which you can use to buy more snacks."Snacks are either organic, all natural, GMO-free, gluten-free or free of artificial junk" so you can feel good about the options and with the purchase of each box, they donate 1 meal to hungry children in America! I am definitely a fan.
They have a V-Day special going on where you get bonus points and a $15 giftcard!

You can order snacks or sign up for a subscription by clicking here!
In case you missed it:
Did you take the plunge and sign up for any subscription boxes yet?